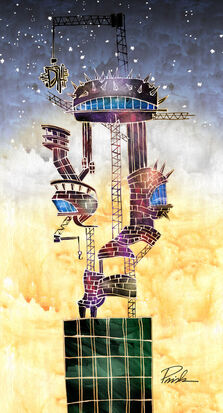 Dan Halen Sheet Rock International is a large building and an industry owned by Dan Halen. According to Dan, the building is the largest building in "Appalachian" in the episode "Rich Dan, Poor Dan". The building is located in the middle of Dougal County. This building has been featured in numerous episodes.
In the episode, "Rich Dan, Poor Dan", Dan Halen suffered from bankruptcy after not paying anything, Denny also had to let a group of Mexicans to take all of Dan Halen's possessions to the bank. The office of the building was eventually emptied out and everything in the room was abandoned.
Description
[
]
The building is a large workplace with many employee's working there such as Early Cuyler, Glenn, and Shawn Coleman. According to Dan Halen, he had over hundreds of employee's working for him.
Since the building is very large, the top of the building ends at the sky and reaches to the beginning of space. Sheriff and Deputy Denny also work for Dan Halen as part of law enforcement of the county.
Interior
[
]
Dan Halen has a office with a yellow desk, the walls are completely colored in browns, the building also has Dan Halen's Logo on it, located pretty much anywhere. The building has other rooms such as a work office that has desks, shelves, a coffee machine where people usually get coffee from, the word "No" appearing red letters appears on the wall as a white card, papers/articles appear on a clipboard saying words such as "Choke", "Stop EEOE", "Kittens" and "Bunny Ys For Sale", with a small picture of a small rabbit below, and Glenn usually works in this office, which appears in many episodes of the show. In the episode "Lerm", the coffee machine was replaced with a copier instead. A large room interior seen in "S12E5" and regular business rooms. The office also has a elevator used for transportation located in Dan's own office.
Products
[
]
Many of the various products Dan Halen has owned, produced or has a possession of are:
Sheetrocks
Sheetrock mud
Sheetrock screws
Pharmaceuticals
Petroleum
Global mass media
Third world covert military operations
Pocket Surgeon
Zesty Ranch Baby Tacos
Tote bags for smoking
Illegal cloning
Lottery
Bomb
Appalachian temptation male body spray
Corn maze
Bubble gum on the cop
Gnawable ham bones
Shoe leather pizza purse
Dead man lamp statue
Skull piano
Three white tigers encased in glass
Photos of Dan Halen's history
Mythical creatures such as a Golden Griffin and Griffin
North Georgia regional drawf toss
Banning Confederate flag imagery
Butt outfit (Butt-Cutter)
Rhino head
Gallery
[
]