Ned Hastings is a weather man for a Dougal County television station as well as being a licensed meteorologist. His only appearance in Squidbillies is in the Christmas special "Rebel with a Claus". Ned Hastings was working Christmas eve when the sled of Santa Claus went down near the area.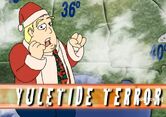 Character History
[
]
In the Dougal county jail, Sheriff was seen inside having a conversation with a prisoner named "Ripper" while setting up Christmas decorations he saw the news on the television, and abruptly shushed the inmate to watch the news, Ned was giving an update on Santa Claus flying near the area via a "Santa Tracker". Ned was the first to be informed of Santa going down near Dougal county, and showed much worry when first hearing of the news, he over exaggerated by screaming, however he continued to do his job by keeping the audience updated on the event. Sheriff, showing worry about the event, left to investigate the crash.
Notable quotes
[
]
God help us, GOD HELP US ALL AT CHRISTMAS TIME!!!
Appearances
[
]
Trivia
[
]
Gallery
[
]